Andhra Bank Credit Cards Registration & Login
Credit card is issued to its customers and to non-customers on a selective basis. The documents and pre-requisites to apply for a credit are two passport size colour photographs, proof of address, ID proof, Pan card copy as per 'Know Your Customers' norms, application for credit card with complete information, and latest income tax returns or form-16 or salary pay slip.
To Register and Login
First visit the Andhra Bank official website for credit card registration and login. Then, click on the link 'AB Credit Card Portal Login'. Now, a new screen shows up where you will be asked to enter Customer ID and Password. Considering that you don't have the Customer ID and Password, you must click on 'Get Customer ID'. Now on a new screen, you will be asked to enter your registered mobile number. After entering the mobile number, you must click 'Register User using OTP', on doing so you will receive an OTP and Customer ID to the registered number. Using this link, you can register for credit card by entering ID and Date of Birth along with the registered mobile number. After filling the details, check the 'Accept Terms and Conditions' check box and click 'Register'. Now, you are done with registration. So, you can login with your login credentials.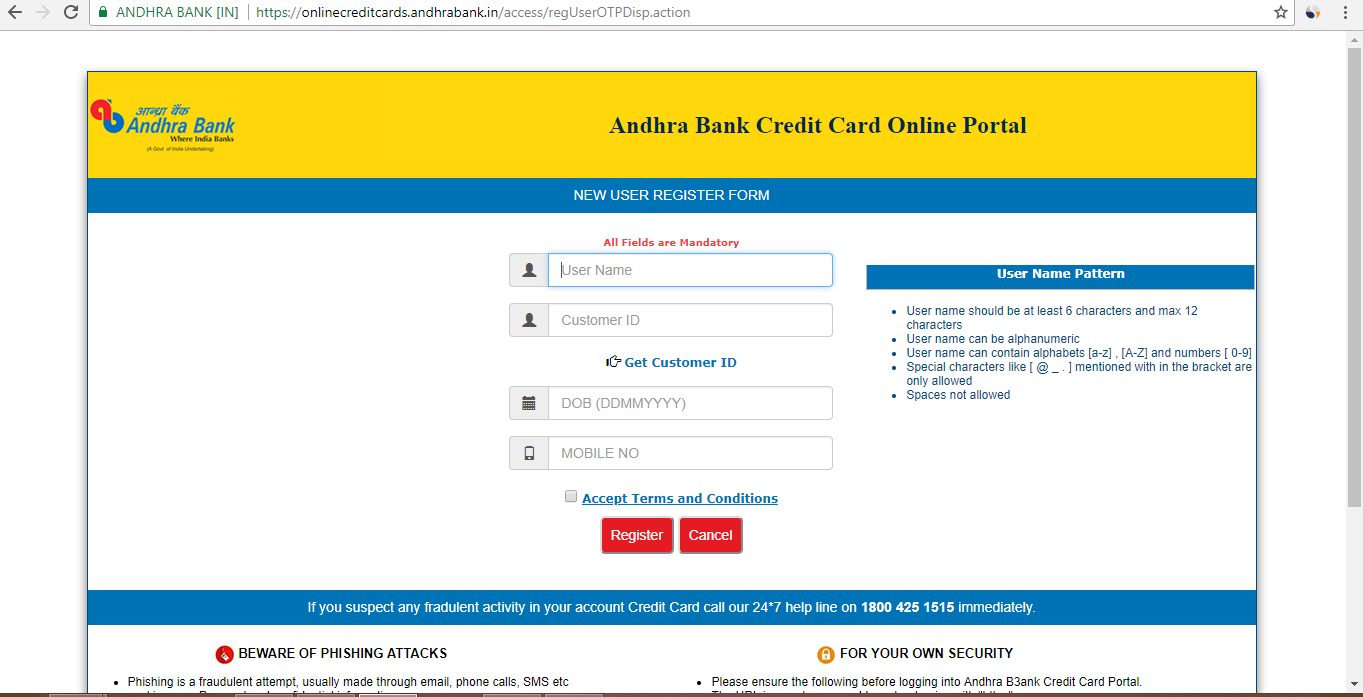 To change or reset password, click 'Forgot Password' where you will be asked to enter Customer ID, DOB and registered mobile number. Fill the details and reset your password.
You May Also Check
Andhra Bank Credit Card Online Application & Status
Andhra Bank Credit Card Payments
Andhra Bank provides number of ways to make payments. Auto-Debit Facility through Standing Instructions is a hassle-free option where you don't have to remember your payment due date every month. All you need to do is to submit the standing instructions at your bank branch. This ensures that the amount directly deducted from your operative savings/current Andhra Bank Account every month and your card account will be credited. It is required to keep sufficient balance in the account for transferring funds on due date.
Payment can also be done by using your Andhra Bank Net Banking facility where the payment is done via direct debit from your operative savings/current bank account. You can pay your Andhra Bank Credit Card dues through NEFT / IMPS by entering your 16-digit Andhra Bank Credit Card number in place of account number as beneficiary account number and use IFSC code to make Credit Card payment. Payment through RTGS can be done from your bank account. You will have to enter your card particulars, mobile number, E-mail ID and IFSC Code. You must add ANDHRA BANK in the bank section, enter account number and the 16-digit credit card number as beneficiary account number. You can pay through cheque/demand draft. You can use other bank cheques to deposit at any Andhra Bank branch. The amount will be credited in its due time.
You can also pay the Payment through Andhra Bank Mobile App. Payment through cash is the basic method of payment, where you will walk into your Andhra Bank branch and pay the credit card dues by mentioning card number and amount. You will not be charged for this. Visa Money Transfer is where you can pay through other bank account using its facility to do so. Credit Card due payment can also be done at ATMs and through Bill Desk. This type of  Credit cards payment process is same for the following banks Punjab National Bank Credit Cards, South Indian Bank Credit Cards and Kotak Mahindra Bank Credit Cards etc.
Andhra Bank has a network of 2507 branches and 2232 ATMs across the country. Andhra Bank credit cards come with various interesting features and reasonable costs to make your life more convenient. The credit card is enabled with IC chip which provides high security from any kind of online scam. The bank offers different credit cards to suit the needs of its customers. The credit cards offered by Andhra Bank are VISA Classic, VISA Gold, MasterCard, MasterCard Electronic, Visa – Corporate, Platinum Credit Cards, and Signature Credit Cards.
You May Also Check Here For More Information About Andhra Bank
Andhra Bank Credit Cards with Offers
Each of the cards proposed by the bank offer various different benefits to its owners. VISA Classic card doesn't impose any charges for enrollment, annual subscription for the first year, and cash withdrawal from Andhra Bank ATM's. The bank provides cost free insurance cover for lost credit card and SMS facility for all transactions. Andhra Bank grants two add-on card for spouse, parents, or children who are major. The minimum payment due amount on this card is 5% of the gross bill amount.
All the above features are applicable to both VISA Gold and MasterCard credit cards, while each have few additional benefits and features. VISA Gold credit card is available only on request and is applicable to gross annual income of 2.40 Lacks in INR. One distinguishing feature is that the minimum payment due amount is 5% of the bill amount generated for the previous month. MasterCard credit card is a globally valid card offered only to salaried individuals with gross monthly salary of INR 15,000/- or non-salaried individual with gross annual income of 1.80 Lacks INR. As in case of VISA Gold card, the minimum payment due amount on this card is 5% of the bill amount generated for the previous month.If you want to know more about the Andhra Bank Credit Card offers you can contact Andhra Bank Customer Care at any time.
MasterCard Electronic credit card is issued against lien fixed deposits with 25% margin and the minimum deposit amount is 10,000/- INR. You receive exceptional rewards every time you spend through this card. Minimum payment due amount is same as VISA Gold card and MasterCard card. The owner of the card can avail the benefit of Cash advance facility where the limit for cash with advance is 50% of the Card Limit. Service charges are applicable at 2.5% per month on the due balance. Service charges are applied at 2.95% per month if minimum amount is not paid within due date, for all the four credit cards. This type of offers are also available for Dena Bank Credit Cards, United Bank of India and Bank of Baroda Credit Cards. If you have these accounts you can check here. Visa – Corporate Credit Card has all the necessary features to meet the requirements of the bank's corporate customers. This card is available for any public or private ltd companies of net worth higher than 25 Lacks INR. It offers various value-added services compared to other credit cards. Platinum credit card is the means by which Andhra Bank offers its credit card customers terrific benefits. The benefits are for its affluent customers offered globally by Visa International. It offers low service charges and cash advance charges at 1.50 % and 2.00% respectively under roll over facility. It provides round the clock concierge services that are offered by Visa International for any assistance during travelling, or any emergency cash assistance. Along with this, the Platinum card holders can avail all VISA International Merchant offers. Signature credit card is a premium card that has excellent features and provides the best services in travel and living, dining and lifestyle needs.
It grants premium access to selected airports lounges globally for a marginal fee of USD 27.00. It provides terrific offers and discounts for card used for travelling, dining or purchase of retail and entertainment provided by Visa. The minimum eligibility amount is INR 10.00 lacs per annum. It provides high security through Chip and PIN protection. Bill payment is simple and easy via Visa Bill Pay. Like Platinum card, it also provides its owners with exclusive concierge services from VISA during travelling to make it more pleasant through various assistance channels globally. Along with Andhra Bank other banks in India like IDBI Bank Credit Cards, HDFC Bank Credit Cards and ICICI Bank Credit Cards also provides best offers to their customers.
FAQ's Related to Andhra Bank Credit Cards
Where can I use the Credit Card?


View Answer

All the types of credit cards issued by the bank can be used at all merchant establishments with VISA and MasterCard affiliation.

What is the Eligibility to apply for a Credit Card?


View Answer

The eligibility to have a credit card is a proof of income of more than 1.80 lacs per annum.

What is proof of Income?


View Answer

Proof of income is the pay stubs given by the employer. It is also known as pay slip or paycheck stub.

What is Credit Limit?


View Answer

Credit limit is the maximum amount spent or the cash withdrawn using your credit card. The criteria to decide the credit limit is the income.

Can I pay my Credit Card bill through Net Banking?


View Answer

You can pay credit card bill through net banking once you are registered to the net banking service.