Andhra Bank Net Banking provides the customers of the banking institutions with both transactional and non-transactional facilities from where ever they are through their personal computers or mobiles. Net banking saves a lot of time for the customers as one can get done all transactions and payments without having to go to the bank.
For a customer to have access to net banking facility, one has to register with the bank. Registering sets up user ID and password for customer verification on very single use.
While net banking provides a wide range of facilities to the Andhra Bank Account holders, the only disadvantage is that one has to go to a bank for withdrawal and deposition of money.
Andhra Bank Net Banking
Like any other public-sector bank, Andhra bank, which is one of the largest banks in India, provides its customers with internet banking facility. One can pay bills, transfer money and check transactions from where ever they are. Booking tickets for any media of transport has become an easy task because one need not go to stations and wait for hours at the booking counter. One can shop and pay online via internet banking without having to step out of one's house.
You Can Also Check Here For Better Banking Experience With Andhra Bank
Andhra Bank Online Banking Registration & Login
To have access to internet banking facility one will have to register with their bank. On registering, you will be given a user ID and password. Andhra Bank provides its customers with two modes of registration, offline and online. If one opts for offline mode of registration, they need to visit their branch to submit the registration form along with others required documents. They will get user ID and password after the verification of documents.
In online mode, one can easily register just by going to the official website of online bank. The only pre- requisites are, an already registered mobile number and debit card details. To register, click on INTERNET BANKING SIGNUP tab on the official website of the bank. On clicking on it, a new tab opens as you can see below,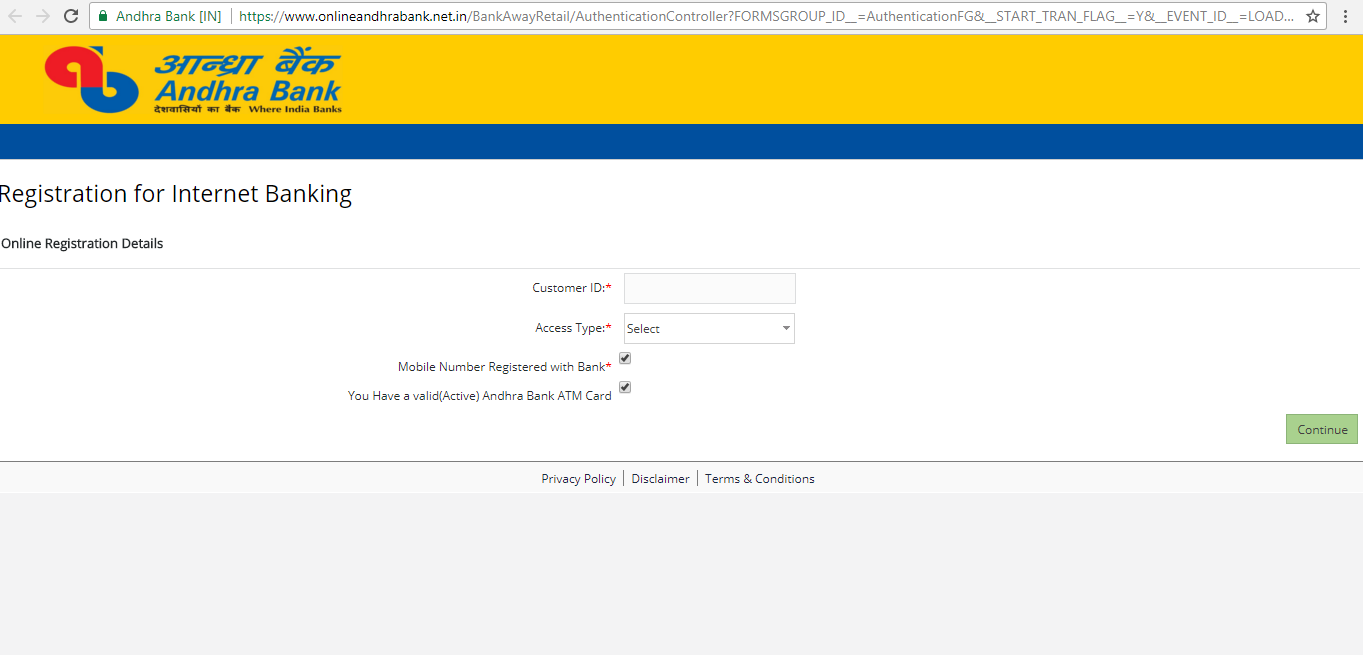 In the Instant Registration for Internet Banking page, you must select both the criteria and click Continue. On clicking Continue, you will be asked for your customer ID that you can find in the bank's pass book. After this, enter the registered mobile number on which you will receive an OTP. Enter OTP to validate. Reset the password and you are done.
Now, to login, go to the Andhra Bank official website online. Click on "Retails user login" for personal banking, then, click Continue after reading the disclaimer. Net Banking User ID is your Customer ID. Enter user ID and password. Once you are logged in, change Sign On and Transaction passwords. On changing the passwords, a message saying "Password saved successfully-click here to go to banking service homepage" shows up. Click on the link to have access to Andhra Bank net banking facilities.
Andhra Bank Net Banking App
AB has Andhra Bank Mobile Banking App called AB TEJ. With this app, you can do all banking and payment tasks from where ever you are around the clock. This app provides instant registration and activation. It gives the safest and fastest user experience to manage your account, profile and other financial information. You can register with Andhra Bank Debit Card details and PIN. You can check your account balance and last ten transactions whenever needed. 
You can download AB TEJ for different versions like AB TEJ for Android, AB TEJ for windows and AB TEJ for IOS. AB TEJ provides secure beneficiary registration to transfer funds via NEFT and IMPS. It also provides quick fund transfer without having to add beneficiary. You can request for, view or stop check services using the app. You can recharge mobile and other subscriptions without any hassle on this app. And above all, the app is constantly being updated with new features by taking advantage of the latest technologies in the market. Net Banking made easy the funds transfer at any time with out visiting banks. Checkout Allahabad Bank Net Banking, Union Bank Net Banking, City Bank Net Banking and HDFC Bank Net Banking banks for hassle free online funds transfer.
You Can Also Check Here
Andhra Bank Net Banking Customer Care
Andhra bank being a public-sector bank provides various products and services along with banking facilities. Andhra Bank Customer care facility is a non-transnational service it provides. Andhra bank has a separate department called customer service, which is functional between 10.00 a.m. and 5.00 p.m. Here is the e-mail address for customers to submit their queries, [email protected] Also, it provides a toll-free Number: 1800 425 1515, few telephone numbers: 040 23234313, 23252000 with extension numbers: 2422, 2577 and fax number: 23232419 for customer's queries or grievances.
The bank provides different toll-free numbers for different customer queries. Here are the numbers, 1800 425 1515 for Tele Banking, 1800 425 1515 for Credit card support, and 1800 425 7701 for Pension related issues. With these toll-free numbers you can reach the help desk for free of cost.
FAQ'S Andhra Bank Net Banking
How do I change my net banking password?


View Answer

To change your password, click on the forget password link where you will be asked to enter your credentials. After enter credentials, you will have to enter your old password along with the new one.
That is how you change your password. 

What is IMPS?


View Answer

IMPS stands for Immediate Payment Service (IMPS). It is an instant electronic fund transfer through mobile phones. All the Andhra Bank customers registered with IMPS can send money to any IMPS customer of any Bank instantly using mPAY application. 

What is MMID?


View Answer

MMID stands for Mobile Money Identifier. It is a 7-Digit code given by the bank to all the customers who are registered with the IMPS service. 

How to transfer money using mPAY?
View Answer
First, login to your account in the mPAY app. Choose Fund Transfer Menu and then choose Fund Transfer to another bank. Now, choose IMPS and then choose Quick IMPS and then enter your mPIN.
Now you have to enter your 10 Digit Beneficiary Number followed by 7 Digit MMID code and amount.
Confirm all your details and save the IMPS Transaction Reference Number.