HDFC Bank provides a wide variety of payment options to its customers. Bill payment and online shopping with HDFC Bank is simple, safe, convenient and quick. All banking payments are securely processed using sophisticated encryption technologies. This bank introduced HDFC Mobile App for secure payments at any time. The security solutions implemented by HDFC bank are verified by Visa or Master Card, IVR 3D secure, and NetSafe.
HDFC Bank Online Payments
The wide variety of online bill payment options available with HDFC Bank compared to banks like ICICI Bank are:
Prepaid mobile recharge using the HDFC Debit Card without any extra charges. Mobile recharge using the ATM card can be done easily at any of the HDFC Bank ATM by selecting the prepaid recharge or bill pay option, providing the 10 digit phone number and the recharge amount. The amount will be credited to your mobile in just few seconds.
Bill payment with InstaPay using the Net Banking services. To pay bills using InstaPay services, the customer has to select the biller from the available list of billers and click the submit button. This bank also provides great offers on HDFC Credit Cards to their valuable customers.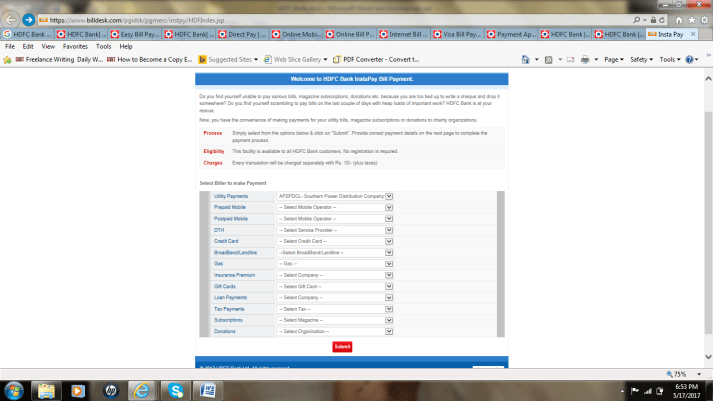 In the next page provide the required bill details. It takes about two days for processing the request. A charge of Rs.10 has to be paid per transaction.
Bill payment with Direct Pay: Using the Direct Pay services you can purchase Air tickets, pay mobile bills or the insurance premium. To use the Direct Pay services, customer has to login the

HDFC Bank account

, register for net banking with Third Party Transfer (TPT). Choose website providing DirectPay feature, select the bill you wish to pay or shop online. In the checkout process, choose HDFC Bank Direct or Debit or net banking system option. Confirm the transaction by providing the Net Banking password and the Customer ID. After processing the payment request, the amount is debited from the customer account and debited to the service provider.
Bill payment using BillPay Plus: Using BillPay plus electricity bills, mobile bills, gas bills, insurance premium, DTH or prepaid mobile recharge can be done very easily. To use the BillPay Plus services, access your HDFC Net Banking account, click on BillPay and include the billers. Make the payment by giving the required bill details. Automatic bill payment before due date can also be scheduled by providing standing instructions. The best part of using BillPay services is it is free of charges.
Other similar online bill payment services available with HDFC Bank are Request and pay and Visa Bill payment. If you have any qurys with payments you can contact HDFC Bank Customer Care.
HDFC Bank PayZapp
HDFC PayZapp is an application that enables customers to make different types of bills or shop online using mobile. HDFC PayZapp allows the purchase of movie tickets, flight tickets, book hotels, get discounts on SmartBuy, recharge your mobile, HDFC Debit Card, or DTH service. Using PayZapp is simple, just connect your debit card and credit card to PayZapp and make payments securely with just one click on your mobile. One click payment services of PayZapp are available at Cleartrip, SmarBuy, Make My Trip, Ticket goose.com, Ease My Trip, Quik Wallet, and others.
FAQ's Related HDFC Bank Payments
What is payment limit using the DirectPay services?
View Answer
Customers using the DirectPay services can pay bills worth Rs.10 Lakhs per day per customer.
2. Is it safe to user PayZapp?
View Answer
PayZapp is safe and secure to use as it equipped with world-class encryption technology and does not store data in the phone. The app is safe to use unless you share the secure PIN with others.