IndusInd bank provide one of the best credit card service with some good and attractive interest rates on the purchases made using the credit card to IndusInd Bank Account holders. You can your credit card bill with IndusInd Bank Net Banking without visiting the bank.
IndusInd has come up with better banking experience with credit card as they have divided the credit card according to various requirements of the clients.
IndusInd Bank Credit Card Online Application and Status
IndusInd provides one of the best Credit card service to their customers, one of the highlights about IndusInd Credit card is that they let you apply online and check up on the status online from their website, this makes the customer apply for the card from their home or office or where they find it comfortable at the time they want to without even having to visit the bank.
IndusInd bank has made the credit card application process better and simple for their customers. Along with credit cards this bank also provides IndusInd Bank Debit Cards for withdrawing money with out visiting banks.
You can apply for the IndusInd credit card online with two simple steps.
For this you will have to visit the online IndusInd credit card website and then you will have to complete the two steps provided in the website.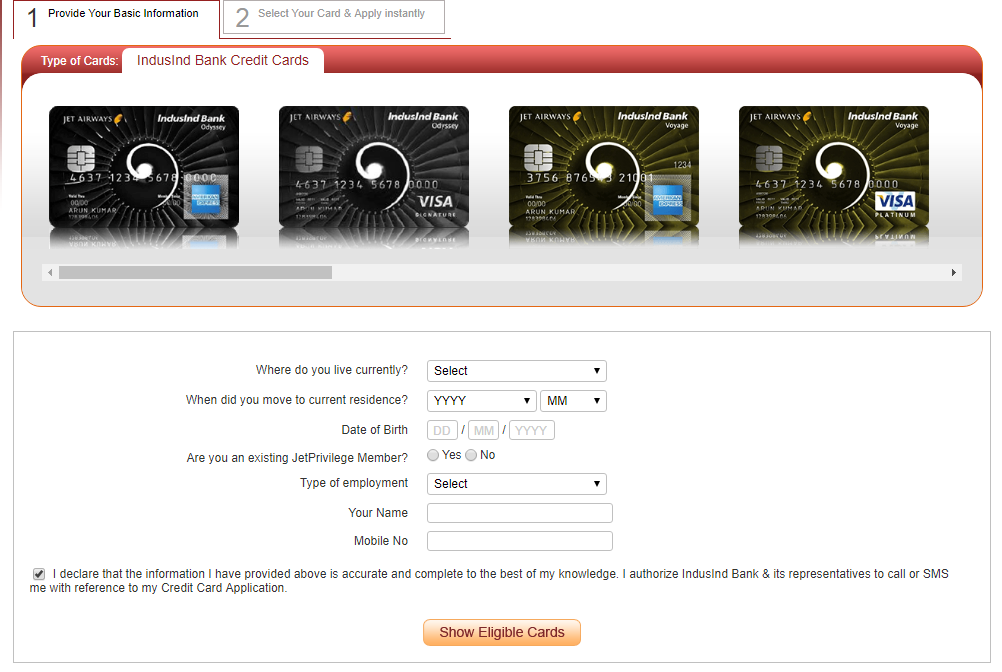 Once you apply for this card you can also come back and check for the Application status as and when required to keep a track of your application.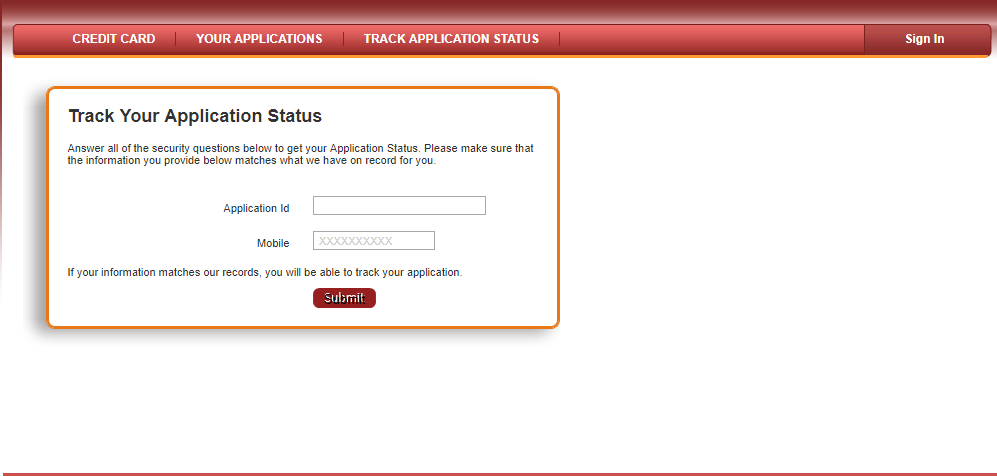 To track your application, you will have to enter your application ID provided to you while you have applied for the credit card and your registered Mobile number and click the submit button to successfully track the application status. If you have any issues with registration you can contact IndusInd Bank Customer Care for support.
IndusInd Credit Cards with Offers
IndusInd bank lets their customer use the credit cards with some exciting interest rates and some offer's. There are different forms of credit card offering different benefits for the customers using it, IndusInd bank also lets their customer customize their credit cards based on benefits.
The each type of credit card provides different type of benefits to their customers based on the need of the customer. You can also check the credit card offers on IndusInd Mobile App.
The various types of credit cards provided by the IndusInd bank are:
Super Premium Credit card
Premium Credit card
Co-Branded Credit card
Contactless card
Core Credit card
Choose credit card according to your need
If you are looking for much better offers on credit cards then the following banks Canara Bank Credit Cards, HSBC Bank Credit Cards and IDBI Bank Credit Cards providing great offers.
IndusInd Credit Card Customer Service
IndusInd credit card is one of the best credit card service, IndusInd bank focus on their customers and to provide their customers a best and wonderful experience they haveprovided one of the best customer services you can contact them or even email them about the issue you are facing and you will get a fast and satisfying response. You can also the registration process for Dena Bank Credit Cards, United Bank of India Credit Cards  and Bank of Baroda Credit Cards.
To contact the customer service you will have to dial 1860 500 5004 or you can email at [email protected] and for the NRI customer you can mail to [email protected].
FAQ's Related to IndusInd Bank Credit card
How to apply for IndusInd credit card?
View Answer
For this you will have to visit the online credit card page of IndusInd and apply with 2 easy steps, this method has made applying credit card easier and simpler.
2. How to pay your credit card bills?
View Answer
You can pay your credit card bill from your nearest bank or can be deducted from your account or you can use the swift pay credit card option on the website, using this method you can easily pay your credit card bill in three simple steps. You will have to provide your credit card details, then you will have to confirm payment and then receive the online confirmation.