Pay bills, transfer funds or view an account statement anytime, anywhere using the comfort of mobile banking from PNB. The secure PNB mobile banking app "pnb Mobile" makes banking tasks simple, convenient and easy. NRI customers can also enjoy mobile internet banking services using their registered domestic mobile number.  Various financial (Funds Transfer and Utility bill payments), non-financial (view account details, cheque related services, applying for various bank products) and value-add services (Online registration/password reset for Internet banking and debit card holders,  submitting instructions for recurring transactions in future) are available for customers under mobile banking facility. Instead of mobile banking you can also use  PNB Net Banking.
You Can Check Here For Easier Banking Tasks
PNB Bank Mobile App & Mobile Banking
Registering for Mobile Banking Services
PNB Debit card holders can register for mobile banking by visiting the site-PNB website. The customer can also register for mobile banking by submitting the PNB1167 form at the branch.  Several variants of mobile banking are available for users.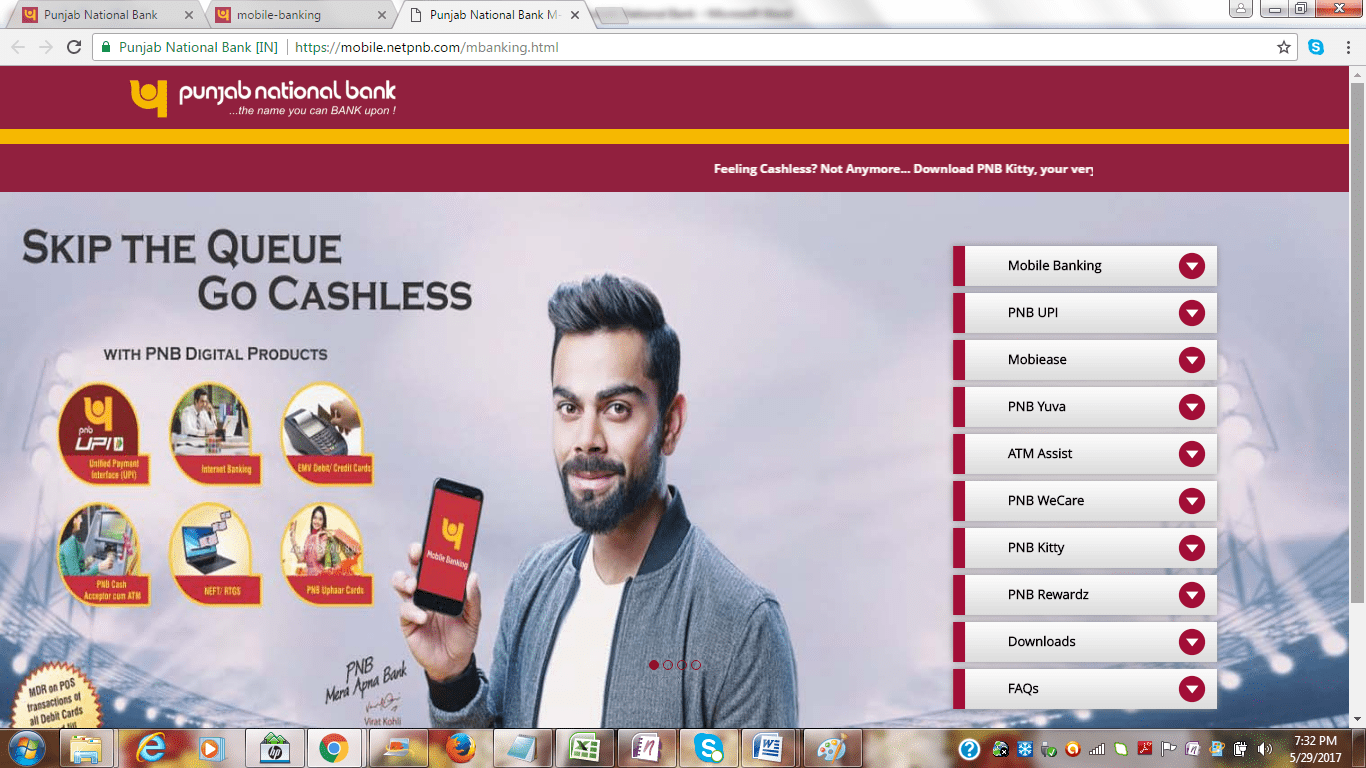 SMS based mobile banking:  Financial and Non-financial services are available by sending SMS to 5607040 or 9264092640
GPRS browser-based mobile banking
PNB m-banking app can be downloaded by accessing https://mobile.netpnb.com/  from the mobile handset or from the corresponding app store of handset platform – Android,  Apple, Blackberry.
National Unified USSD platform can be accessed by dialing *99# or *99*42# and do the specified transactions – Balance enquiry, Mini statement, Fund transfer using MMID/IFSC,  Change of M-pin.
You Can Also Check Here For More Information
Security of Mobile Banking
To ensure the security of the mobile banking, customers are given a user ID and password. It is recommended for the customers to avoid sharing the password with friends or in an email. The password should be framed using alphabets, numerical and special symbols making it hard to intercept. Attachments obtained in email should not be opened nor a response to be sent to any suspicious emails. PNB also provides PNB Debit Cards and PNB Credit Cards to their customers for hassle free banking.
FAQ's Related to PNB App
What is eligibility to avail mobile banking services?
View Answer
Customers with a valid PNB banking account either jointly or single is eligible to utilize the PNB mobile banking services.
2. Is there a daily transaction limit for mobile banking?
View Answer
Yes, the transaction limit for browser or application based transactions is Rs.1,00,000 and for SMS or NUUP based transactions the limit is Rs.5000 per day.
3. What are the charges for availing PNB mobile banking services?
View Answer
Currently, PNB is providing mobile banking services free of cost.