Standard Chartered Bank serves customers any time resolving their queries for a hassle-free banking. The frequently asked questions section associated with each of the products and services provides the required information for the customers. Further clarification on any of the services can be obtained by different means.
Standard Chartered Bank Customer Care, Toll-free & Contact Details
Like Kotak Mahindra Bank or ICICI or any other bank, Standard Chartered Bank customers can call the customer care executives to get their queries answered or resolved. City wise specific numbers are – Ahmedabad, Bangalore, Chennai, Delhi, Kolkata, Hyderabad, Pune, and Mumbai-Allahabad, Amritsar, Bhubaneswar, Bhopal, Chandigarh, Coimbatore, Jaipur, Indore, Patna, Kanpur, Jalandhar, Lucknow, Surat, Vadodara – 6601 4444 or 3940 4444; add the city specific code before the number. Customers of Jalgaon, Guwahati, Cuttack, Mysore, Vishakhapatnam, Thiruvananthapuram, Proddatur, Saharanpur, and Dehradun can call at 1 800 345 1000. Customers of the region Siliguri can call at 1 800 345 5000. These numbers are valid for customers within India.
Check Here Also For Hassle Free Banking Experience
Customers can also mail their queries to [email protected]. Customers can also give their complaint by filling in a complaint form by providing the required personal details such as the Name, account number, email address, and contact number. The complaint has to be given in the complaint details sections. Click submit and the complaint will be submitted online. The customer care executives will resolve the complaint and send a confirmation of the same to the customer.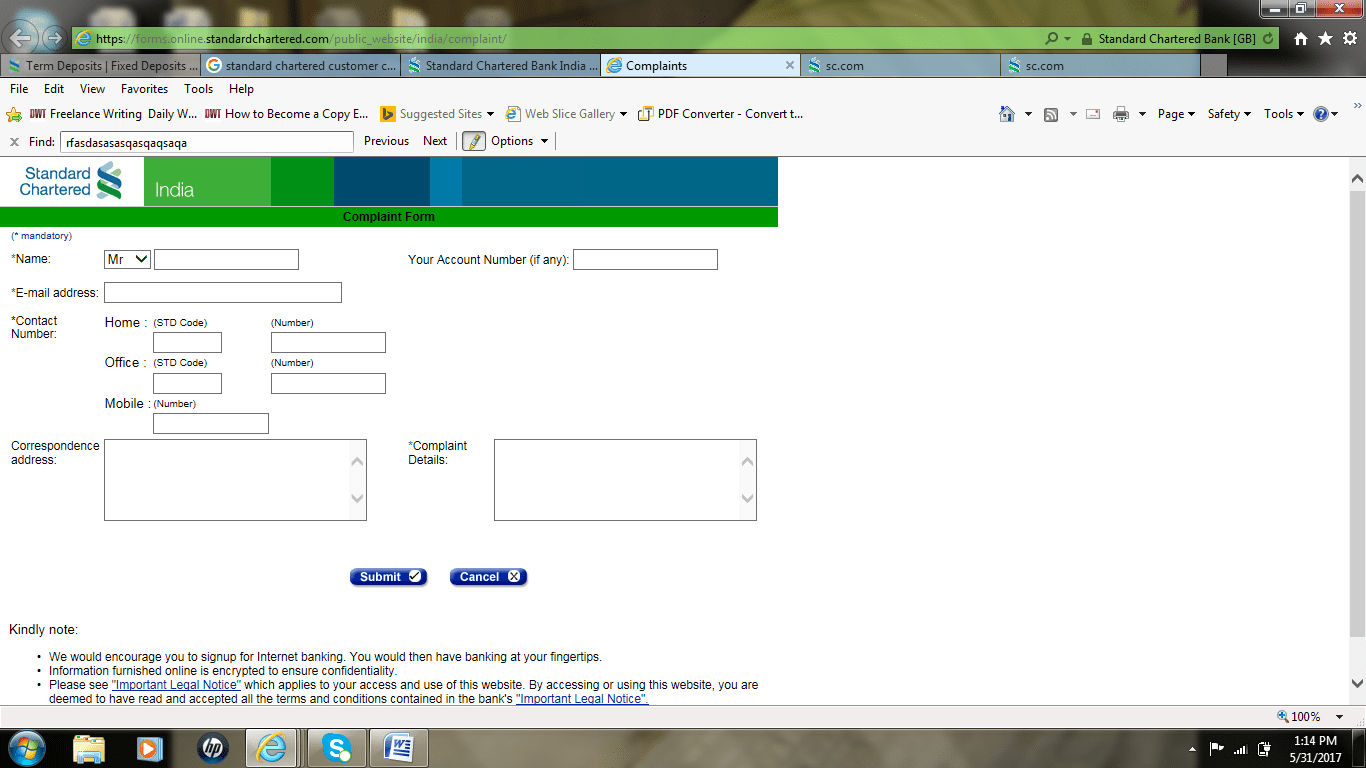 Another easy way to contact the customer care executives of Standard Chartered Bank is by sending an SMS to 9980033333.
Disputes related to SCB Credit Cards & SCB Debit Cards can sent by an email or by submitting a dispute form online. Disputes related to card services can be sent to [email protected]. Credit card related disputes can be sent to Fax number 080-66959595.
To know More About Banking Check Here
Customers can also visit the nearest Standard Chartered Bank to get their banking related queries solved or to submit a complaint form. Complaints can also be sent to the address – Standard Chartered Bank, Customer Care Unit, 19, Rajaji Salai, Chennai – 600 001. You can also check the other bank Customer Services SBI Customer Care, UBI Customer Care and United Bank of India Customer Care for hassle free banking.
The chat with us option can also be used to contact the customer care executive of the bank. Customers can use video chat, audio chat, or simple text messaging to convey their banking concerns. You can also use Secured Standard Charted Net Banking for customer support.
Complaints registered by any of the above methods should be resolved completely within a period of one month. If the customer fails to obtain the solution, then they can forward the complaint directly to the banking Ombudsman. More details related to the Banking Ombudsman.
FAQ's Related Standard Chartered Bank Customer Care
Is it possible to send the customer complaints via email?
2. Whom should the customers contact for service related queries?
View Answer
Customers who fail to get their complaints resolved can contact Ms.Madhura DasGupta Sinha, Head Service Quality, India and South Asia. Postal address – Standard Chartered Bank, Head Customer Care Unit, 19, Rajaji Salai, Chennai – 600 001.