A credit has turned in an indispensable part of everybody's life, with its attractive pay back options and ease of use. Wisely using the credit card can prove very beneficial to its customer. UBI Bank offers credit cards to its UBI Account holders. Here is a list of few advantages of using the credit card:
EMI facility: If you want to purchase a costly item and you don't have that amount as saving, one can easily opt to monthly equated installments. Paying through EMI is cheaper than taking a personal loan to pay for a purchase, such as television or an expensive laptop.
Easy access to credit: One of the biggest advantage of the

UBI Credit Card

is you can easily pay bills and pay for the same later.
Incentives and Offers: There are lots of offers floating on online markets and stores in street with special     offers to the customers paying through their credit card. Many cashback offers and reward points are one the bonus every time you swipe your card.
You Can Also Check Here
Union Bank Of India Credit Card Registration
Union Bank Of India customers can obtain a credit card if they are salaried or self-employed or either against fixed deposits. If you face any problem while registration you can consult UBI Customer Care.The customer needs to visit the nearest branch of Union Bank Of India to avail credit card with the following documents:
If salaried:
PAN card of the customer
Address Proof
Income Proof (Salary Slip or Salary Certificate or Form 16 or Latest IT return)
If self-employed:
PAN card of the customer
Address Proof
Income Proof (Form 16A / Latest IT return)
Note: In the case of no availability of income proof credit card can be obtained against fixed deposit.
Once you have submitted the documents and it has been verified at the bank, you can start using the credit card provided to you. You would also like to register for online credit card  UBI Net Banking which would allow you to know the transaction details, due dates, offers and almost every information related to credit card.
Steps for registration of internet banking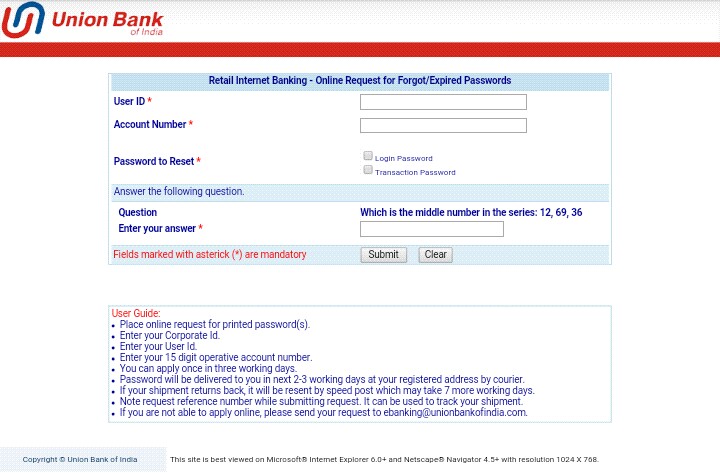 :-
Follow the link for credit card net banking registration on the  UBI official web page.
Enter the details in the registration form asked with reference to the credit card.
Click on the submit button to register for credit card net banking.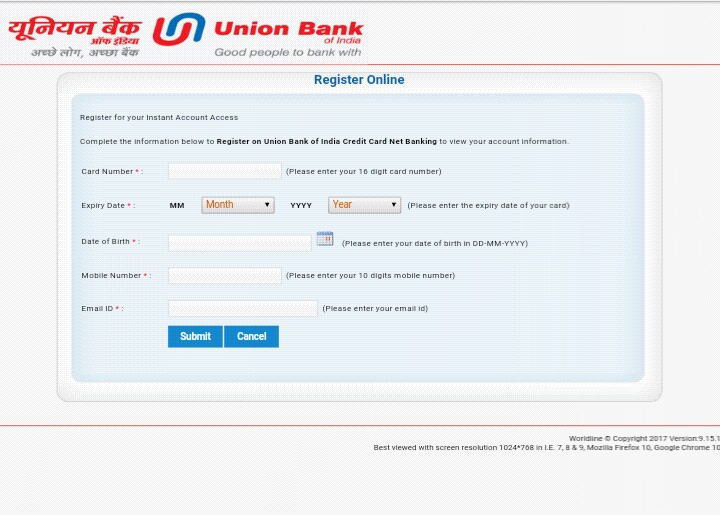 Once you have registered you would be provided a user id and password. Now the customer can easily login using the user id and password provided and enjoy the credit card net banking services.You can also apply for credit card with secure UBI Mobile Banking.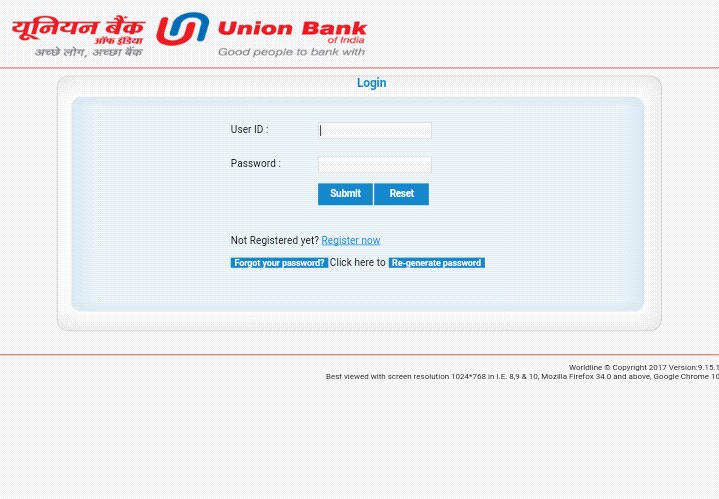 You Can Check Here For More Banking Information
Union Bank Credit Cards with Offers
Union Bank credit card offers its customer hassle free and secure shopping experience around the globe online as well as at outlets. Along with credit cards this bank also provides offers on UBI Debit Cards.
Features and Offers of Union Bank Of India Credit Card
Union Bank Credit Card Don't charge any joining fee and no annual or renewal charges have to be paid other than for signature cards.
Reward Point of Union Bank credit card are extremely attractive and no point redemption charges are levied.
The attractive spending limit is 20 percent of the annual gross salary.
Fee credit period of 50 days and lowest interest rates are charged to the customers.
Flexi Payment Option is also available.
Online Bill Payment through Internet banking account facility is also available.
Full refund of fuel surcharge.
Union Bank of India Credit card provides a highly secured transaction – SMS alerts on all transactions and Three-factor Authentication for all domestic online transactions.
Union Bank Of India Credit Card avails EMI scheme for the period of 3/ 6/ 9/ 12/ 18/ 24 months at attractive interest rates. UBI Deposit schemes providing best interest rates compared to other banks in India.
Union Bank Of India Credit Card gives Free Personal Insurance Cover to primary as well as add-on card holders for accidental death.
Signature card of Union Bank Of India provides additional benefits like free airport lounge access at international as well as domestic airport, higher accidental insurance and4 reward points for every 100 rupees spent. Compare 

United Bank of India Credit

Cards,

 IDBI Bank Credit Cards and Bank of Baroda Credit Cards with UBI credit cards for better savings.
FAQ's Related to Union Bank Of India Credit Card
I want to know my balance in the credit card account. Whom shall I call?
View Answer
The customer can contact Union Bank Of India customer care executive to know their balance.
Credit card call center – 022-40426008
Toll-free number – 1800223222
The customers can also call on the above number to enquire about other details of credit card account.
2. What is meant by credit limit?
View Answer
The 'Credit Limit' is the maximum amount that a user can borrow using the credit card. The limit is determined by different personal details like the source of income, income etc.
3. What is the credit limit given to the add-on member? Are there any separate credit limit to the add-on member?
View Answer
No, the add-on member credit card shares the same credit limit as provided to the primary user.
4. How can I pay my monthly credit card bills? Or What are the different ways through which the monthly bills of credit card can be paid?
View Answer
One can pay their credit card bill by any one of the following options:
Union Bank Of India Net banking: Using the internet banking account the customers can pay their monthly credit card bill. On the net banking home page click on the link "Union Bank Credit Card Bill Pay" to make payment online.
Union Bank Of India Branches: You can visit the nearest branch of the bank to pay the monthly credit card bill through cheque or cash. However, an outstation cheque will not be accepted and the amount will be credited to the credit card.
Auto-Debit: This is the most popular option and is used by the majority of the credit card customers. You can link your saving / current account (Salary account) to your credit card account and the amount of credit card bill will be debited from your current / saving account and credited to your credit card account.
5. My credit card is lost or stolen. Whom should I inform and What should I do?
View Answer
If the card is lost one should immediately contact and inform the customer care executive (24 hours helpline) and get the credit card hot listed and should issue for a replacement card. You should destroy the card if by chance you found the lost card later.
6. What is the revolving credit facility?
View Answer
The monthly credit card bill payment has the flexibility of selecting any of the following payment options:
Pay the total amount due.
Pay only the minimum amount due.
Pay any amount ranging from the minimum amount due to the total amount due.
If you select to pay the minimum amount due or amount ranging from minimum amount due to the total amount due to the remaining amount will be carried forward to the next month credit card bill. This is referred to as Revolving Credit Facility.
7. In the case of disputed card transaction. What happens?
View Answer
In the case of disputed card transaction, please duly filled the disputed form (available online on the official webpage of the bank) and send it to the 11th floor, Nariman Point, Mumbai Credit Card Division, Union Bank Of India (Pin Code – 400023) or FAX to: 022-22883762. The card Division will look into the matter and will get back to you at the earliest with the status of your transaction. According to the terms and conditions of issue of Union Bank, it is the responsibility of the cardholders to resolve the dispute with the merchant concerned, in the case of dispute of transactions.