Deposits consist of money placed in a bank for safekeeping. The services available in the account will include deposit and withdrawal of card at branches and ATMs. There will no limit on the number of deposits but there will be a limit on the withdrawal of amount in a month. If you need to deposit the money in the bank you need to have an account in that particular bank where you want to deposit the money. If you don't have the Dena Bank Account then you need to create the account in that bank by filling the application from of the bank opening account. And need to submit the required Id proofs like address, photo, PAN card, Voter ID, etc. Then initially some amount must be deposited to the bank account. The will be different types of accounts savings, current and fixed deposit account.
You Can Check Here For Better Banking Experience
Dena Bank Types of Deposits
There are different types of deposits
Dena Saving Deposit Account
An average of 50,000 amount should be maintained in this savings account. This saving account scheme offers concessions on all service charges AND A 100% concessions are been provided to all these services, they are ATM cum Dena Bank Debit card, Dena Bank Net Banking, RTGS, NEFT, Cheque book issue charges and many more.
Dena Current Deposit Account
A current account is used for business purposes with a high number of regular transactions including deposits, withdrawal. At Dena Bank, an amount of 50,000 should be maintained at any point of time. And the average balance in the account should be Rs.1 Lac per month and if minimum balance is not maintained then a penalty will be charged.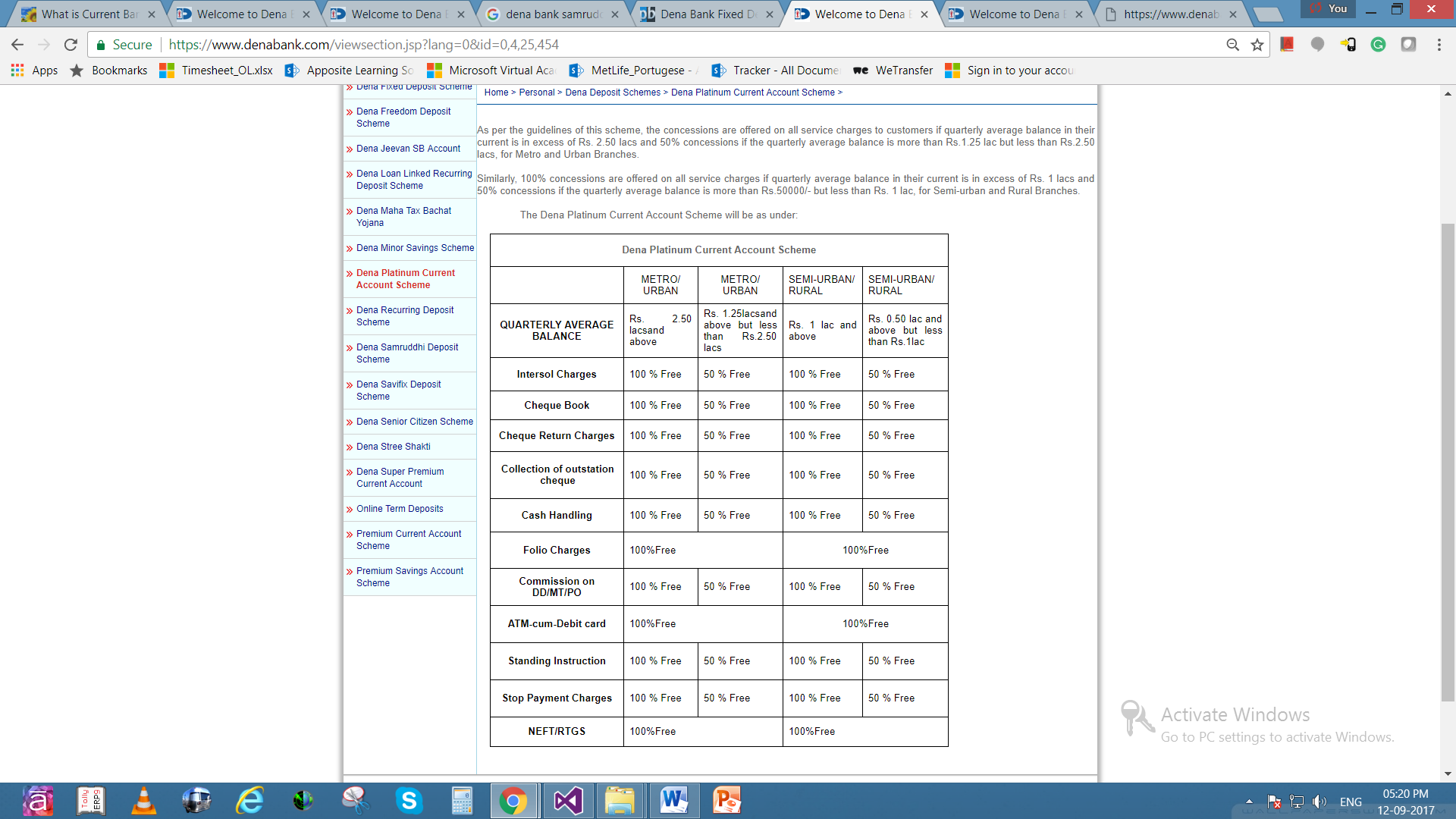 Dena Fixed Deposit Account
This type of deposit allows you to choose the intervals of receiving your interest.
You can choose yearly, half-year and quarterly or even monthly interests according to your needs. Your money is never idle. After the time period is complete then you can have your total amount that was deposited with the interest added to that amount.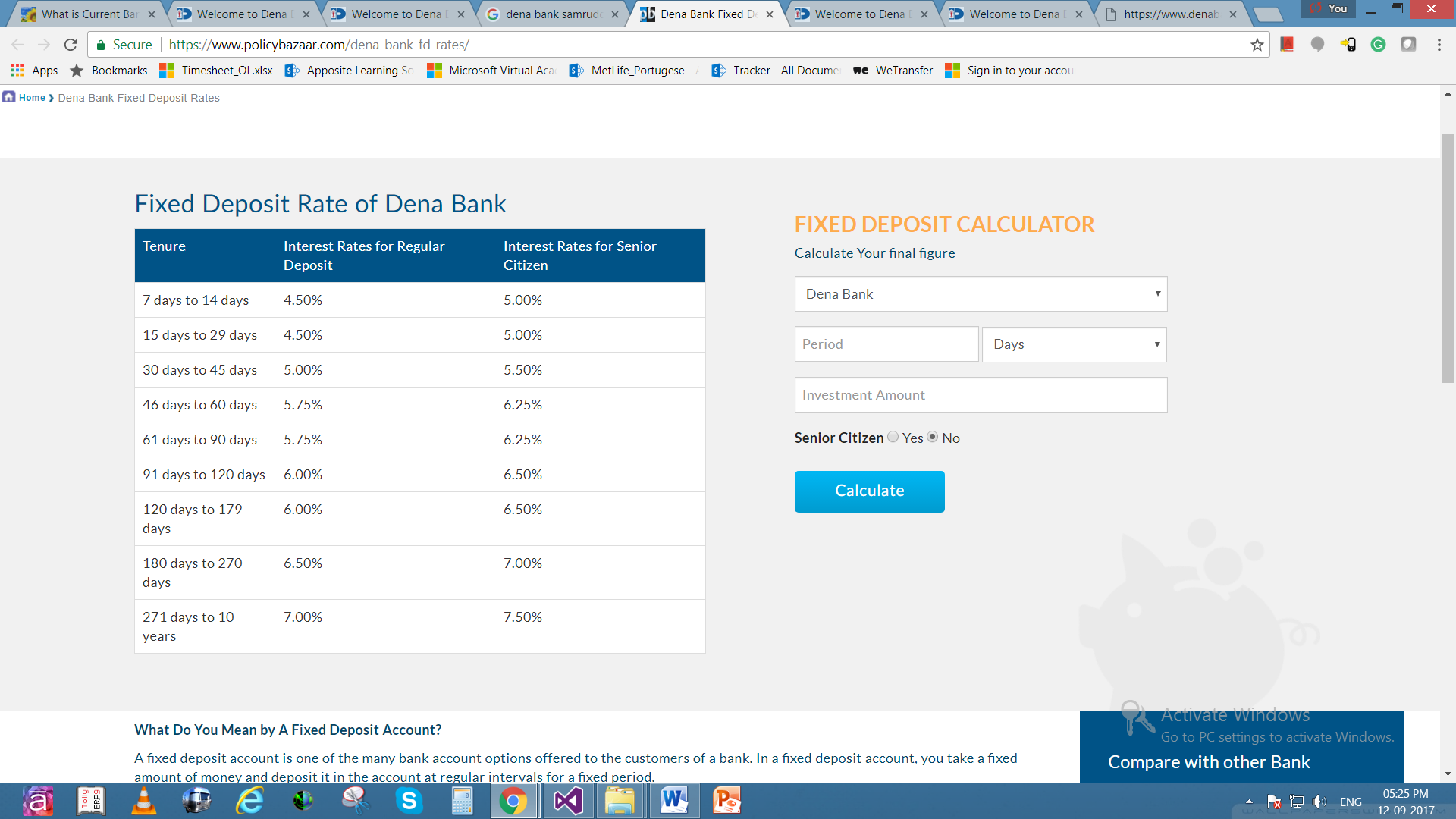 Dena Bank Recurring Deposit scheme
This scheme enables the depositor to save fixed monthly installments. One can choose the maturity plans depending on the saving goals. By putting a little amount every month and the min amount is Rs.50 and further more multiples on 5.
If you have any query's regarding deposit schemes you can directly contact the Dena Bank Customer Care at any time.
You Can Also Check Here
Dena Bank Deposits Interest Rates & Calculator
Interest Rate for Domestic Term Deposit

Interest Rate for NRE Term Deposit

Interest Rate for RFC/FCNR (B) Term Deposit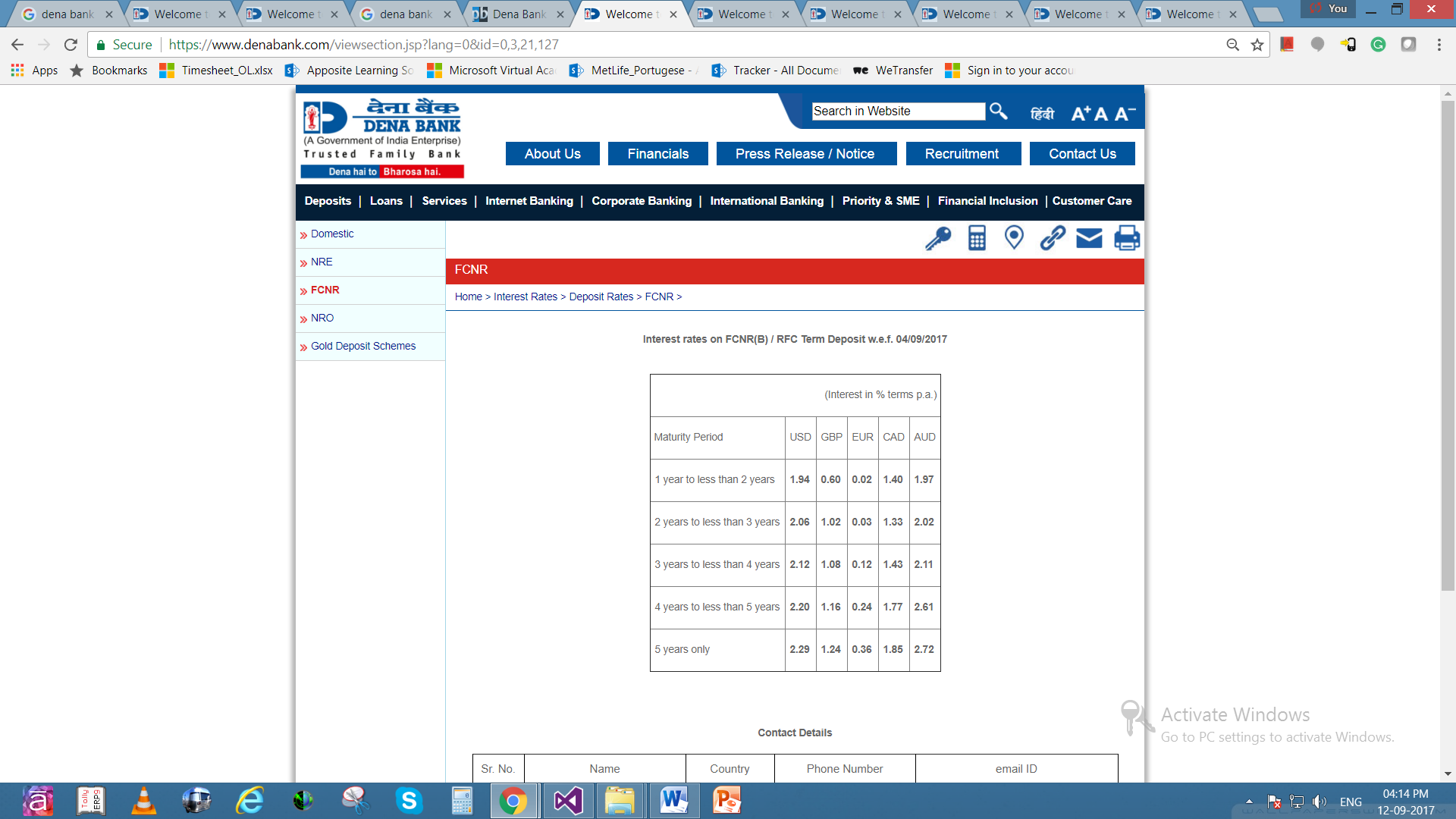 Interest Rate for NRO Term Deposit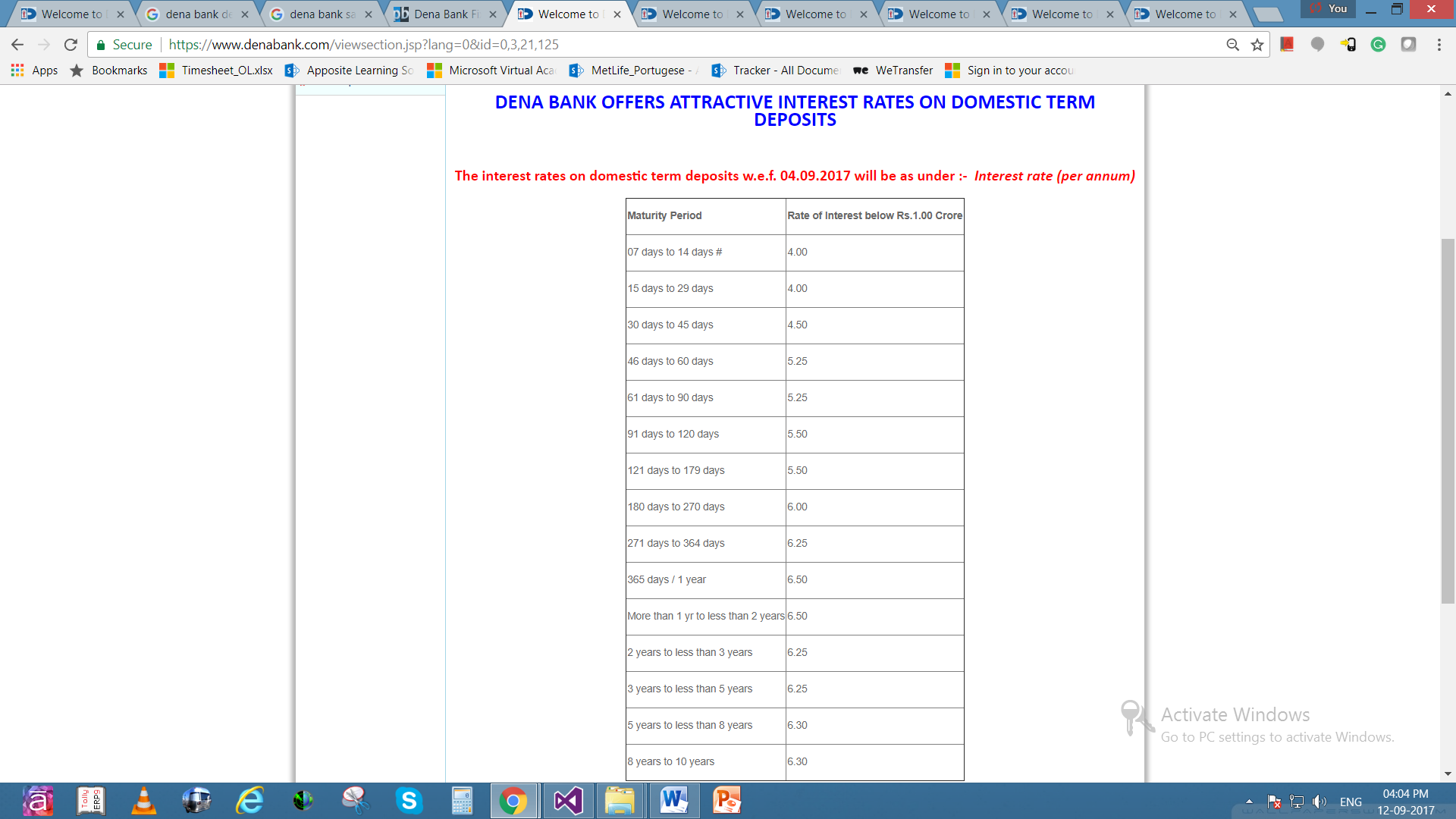 This deposit is similar to domestic deposit only
Golden Deposit Rate of Interest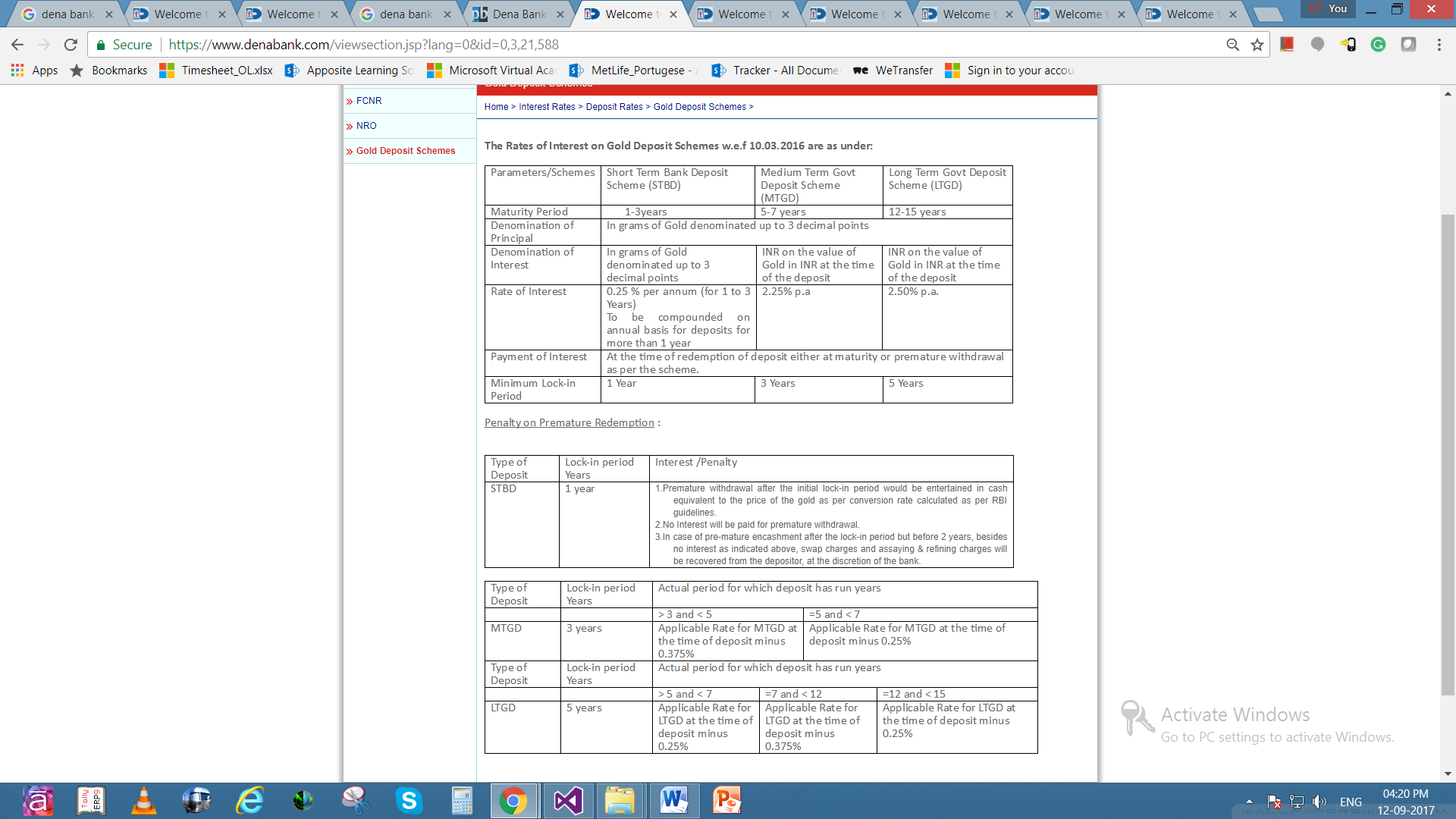 You can also compare the interest rates of different banks Andhra Bank Loans, HDFC Loans, BOB Loans and BOI Loans with Dena bank.
FAQ's Related to Dena Bank Deposits
Can any individual have any number 'Basic Saving Bank Deposit accounts' in one bank?


View Answer

No, they can have only one account in the saving account in the bank.

Can any individual have other deposit accounts where one holds 'Basic Saving Bank Deposit accounts' in one bank?


View Answer

Yes, one can have fixed/Term deposit, recurring deposit etc.

How can I open an NRO account?


View Answer

You can open an NRO account be downloading the form from the Dena bank Website and filling it and mailing it with relevant documents and remittance.