Bank loans are common types of funding for many people who want to buy big-ticket items, such as cars or homes. A bank loan provides medium or long-term finance.  The bank sets the fixed period over which the loan is provided (e.g. 3, 5, 7 or 10years), the rate of interest and the timing and a number of repayments. The bank will usually require that the business provides some security (collateral) for the loan, although in the case of a start-up this security often comes in the form of personal guarantees provided by the entrepreneur. This bank also provides great offers for SIB Account holders on South Indian Bank Credit Cards and South Indian Bank Debit Cards.
Check Here Also For Better Banking Experience
South Indian Bank Type of Loans
The loans are basically to simplify your finances. The bank provide you loans according to your loan category for which you have applied, the amount which is provided by the bank, the amount has to be returned to the bank in a certain time frame that's very important point for the customers. The amount which you are borrowing from the bank, according to the amount bank have certain rules and according to them they apply to interest and the interest which is being figured on the monthly basis or year wise basis, you have to pay that interest amount. check your loan status with South India Bank Mobile App with out visiting the bank.
According to the customers need and motive for their work they apply for different category of loans. It can be of many types as described below:
PERSONAL LOAN
Basically, you could take a loan for any purpose under the 'Personal Loan' category and spend it however you want. However, if you are buying a vehicle or home, there are specific financial and loan products for those purposes. Usually, personal loans have higher interest rates. That's why you have the flexibility for spending the money. You cannot take a home loan and misuse it like you are traveling to France with the personal loan amount. For obtaining the personal loans, the bank or other financial institutions, they have their own criteria for the loan and you should be able to fulfill all that criteria, then only you can apply for the personal loan.
You Can Also Check Here For Hassle free Banking Experience
MOBI LOANS
If you are willing to purchase the new or second-hand vehicle or for paying the vehicle loan which you have already taken. Mobi loans are very good for us and for the better experience in life.
The South Indian Bank has mainly categorized this mobi loan into six types according to the requirement. Those are as follows:
Mobi Loan (Salaried Class)
Employees of State/Central Government, MNCs, IT Companies and other.
Mobi Loan (Business Class)
Business People/Self Employed/Partnership Firms/Proprietary/Institutions Including Charitable. Apply for any loan with secured South India Bank Net Banking.
Mobi Loan (Next Generation)
Professionals and employees who have net monthly income around 60000 rupee.
Mobi Loan (NRIs)
Loan can be applied by NRIs or NRIs can also apply jointly with NRI or Indian resident spouse/NRI Individual.
Mobi Loan (Agriculturist)
Loan can be applied by individuals who have their main source Of income as Agriculture (Excluding the NRI's) & also for Plantations who have registered As Trusts, Companies, Societies, humankind etc., fertilizers traders, cattle feed, Poultry feed, Pesticides, Seeds, Agricultural Implements etc.
Mobi Loan (Pensioner/super annuitant /retiree citizen/ old-age pensioner)
Pensioner/ Senior Citizen or jointly with a Spouse Drawing Pension Income from State/ Central Government or well respected/known Institutions.
HOME LOANS
Being the part of this world the home is our basic needs which must be fulfilled but there are still people around us who are even unable to afford in this world that's not a good indication. So basically the motive behind this home loan is to provide shelter which comes under our basic need and should be at least fulfilled and for that South Indian bank has started to fulfill our basic need that's called as home loan facilities. It is very important for us that bank provides us the amount according to our home size at lower interest, that's very kind and good step of the bank to fulfill our basic needs. The bank helps the person in buying a home/flat. Central Bank of India Loans also provides the home loans at low interest rates.
GOLD LOAN
The procedure the bank has made for the customers is quite simple or we can say straightforward and it is very easy to get the loan under this category. You will get the loan against gold coins or ornaments. We do believe in transparency of the process and its one of the most transparent process provided by the south India bank. It happens in our life that there is much financial organization who applies additional charges for the facilities to customers and their additional charges leads to the big amount that is not at all tolerable but at the south Indian Bank such actions are not in place and the bank in maintaining customers transparency and from last many years they are maintaining their clean decorum in the market, being part of the South India bank users one would feel that they are like our well-wishers, that's what south Indian bank administration do. SBI Loans also provide gold loans at low interest rates. If you are giving something to anyone to keep it the main factor comes in figure that is security, that definitely comes in everyone mind because it is the hard earned money of the customer, if you keep the gold in the bank for gold loan, means you are keeping your gold to your another house with much security, so one can without any hesitation take the loan keeping the gold as security. People called this loan as the emergency loans because you can get very easily.
South Indian Bank Loan Interest Rates and Eligibility
The bank had many types of loan providing facilities and according to the type of loan you are applying the eligibility criteria varies. The bank demands documents for providing the bank loan and the requirement are as follows:
Photograph
Age proof
ID proof
Income proof
Bank statement
Income proof
Residence proof
Signature verification
According to the various types of application for various loans, accordingly, the interest rates are decided by the bank. And they maintain transparency in their scheme so that the customers can understand their procedure in an easy manner and become part of that.
If in case you unable to get all the information which you are willing, for clarifying your query you can contact South Indian Bank Customer Care.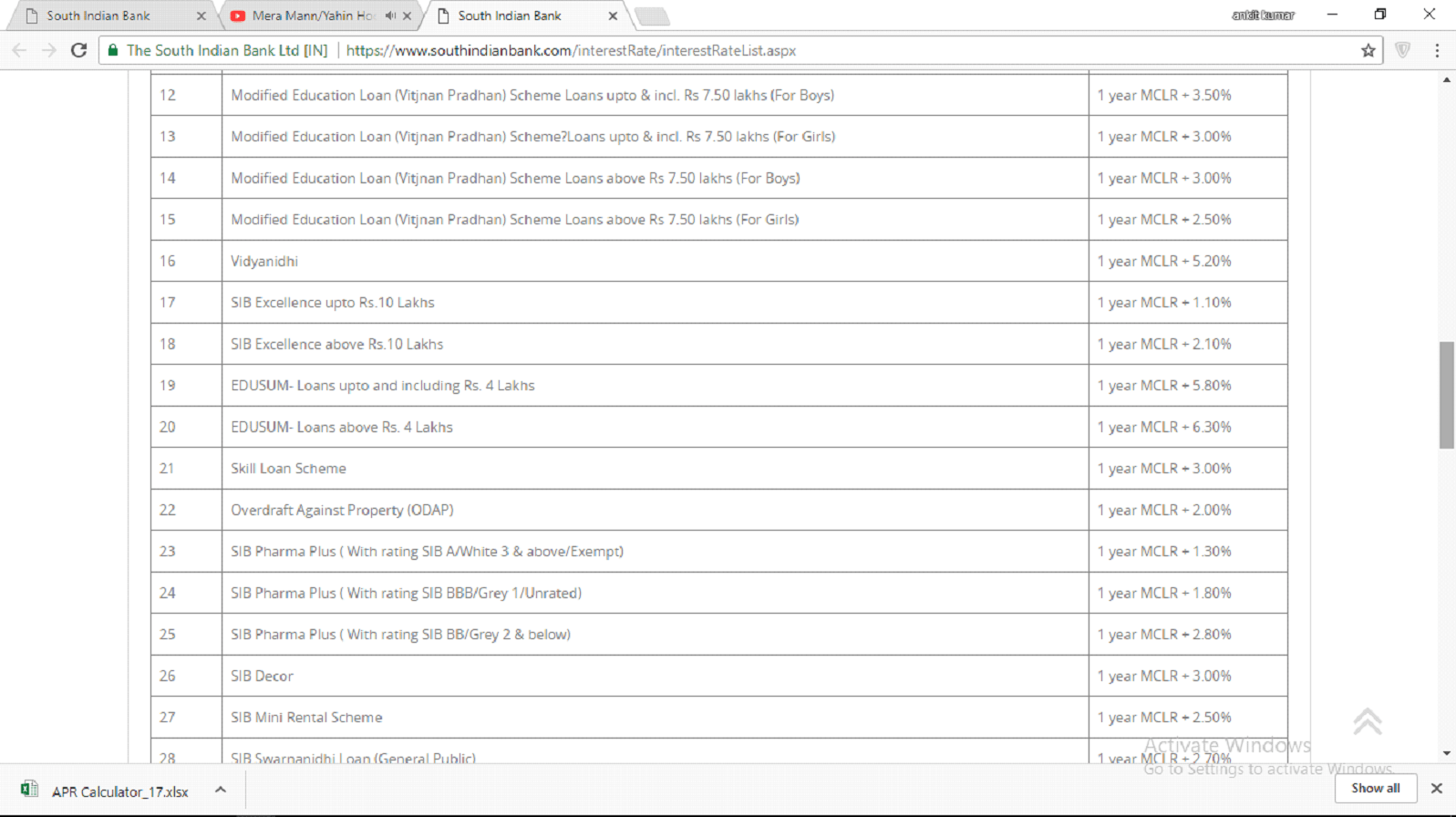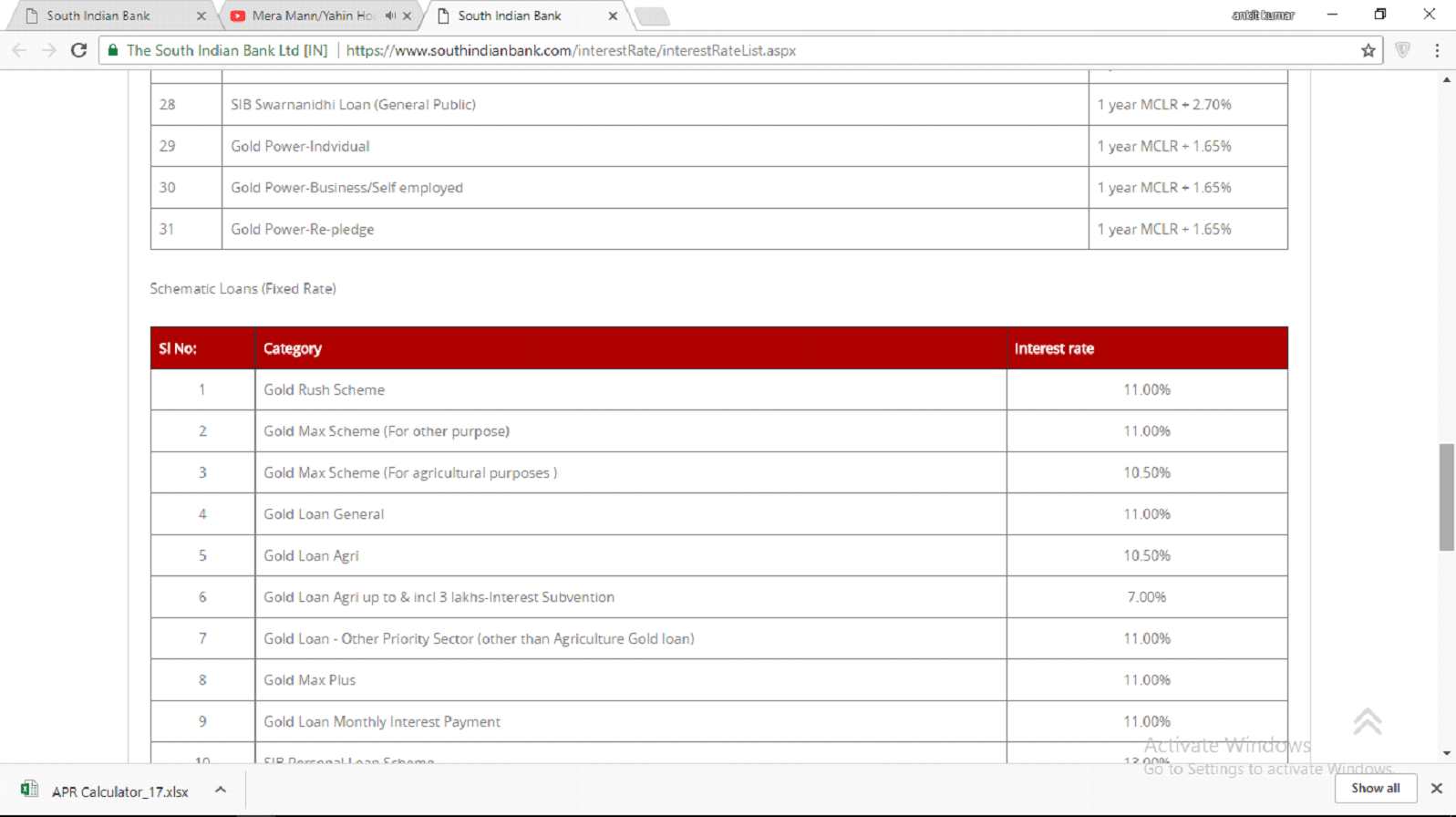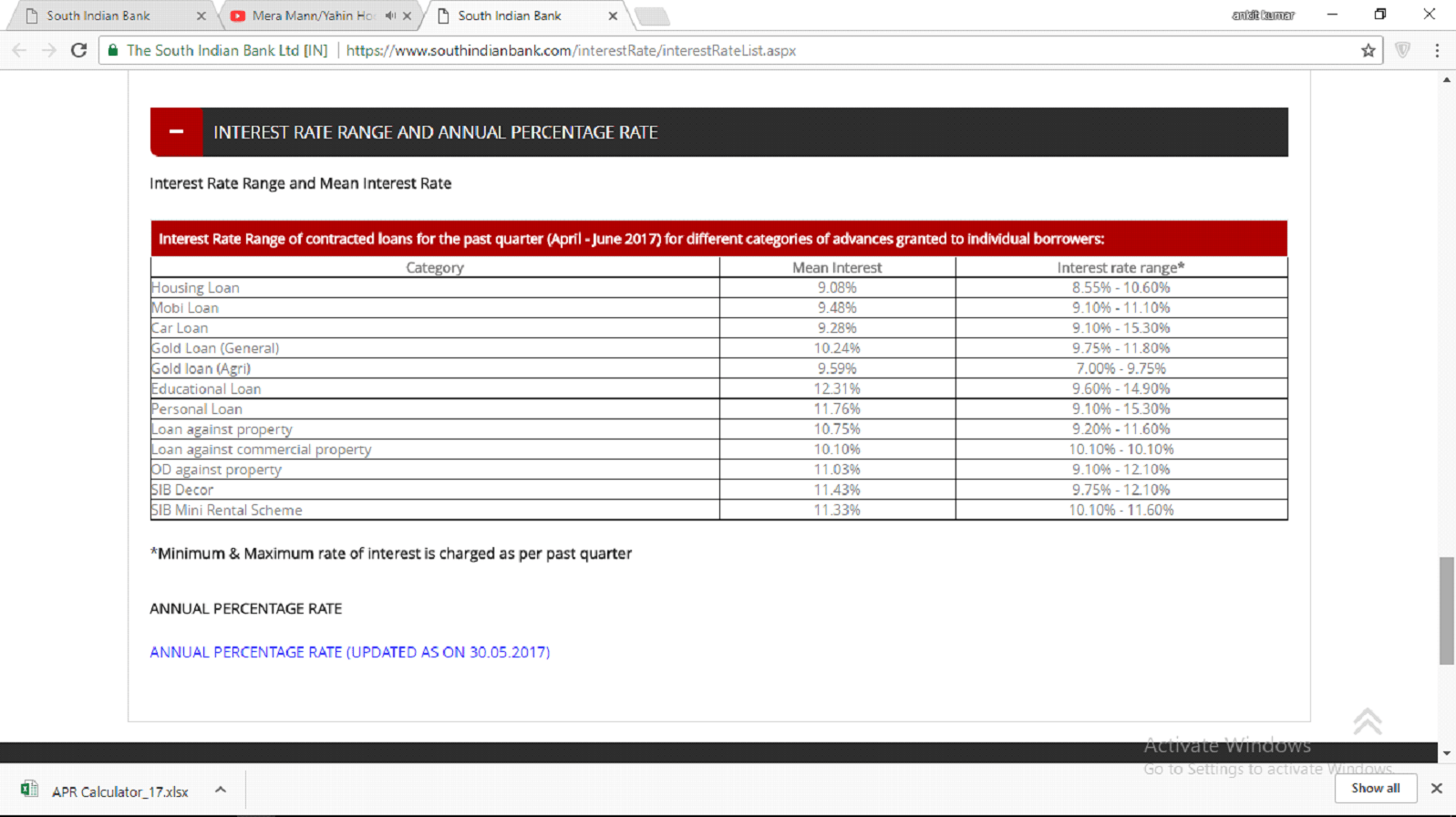 You can also check the other banks SCB Bank Loans, SBI Loans and YES Bank loans for better banking.
FAQ's Related to South Indian Bank Loans
Do I need to pay a fee to apply for the loan?
View Answer
The south Indian bank won't charges any money for applying for loans. No additional charges.
What process does the Bank follow after I apply for bank loans?
View Answer
Once you had submitted the application form for the along with the required documents by your side process is being completed almost and the bank has his own process before sanctioning the loan amount, that is a very simple and genuine process. They check out whether you are eligible for the loan or not according to that they proceed further and now they do the legal and technical verification, that is whether the details of your finance or property you had provided to the bank is correct or not.